Anti-Vax Comedy Club Hosts Anti-Trans Fundraiser
"It's sad that people are utilizing their positions of power, and financial power, to host something that is ugly and hateful," said one protestor.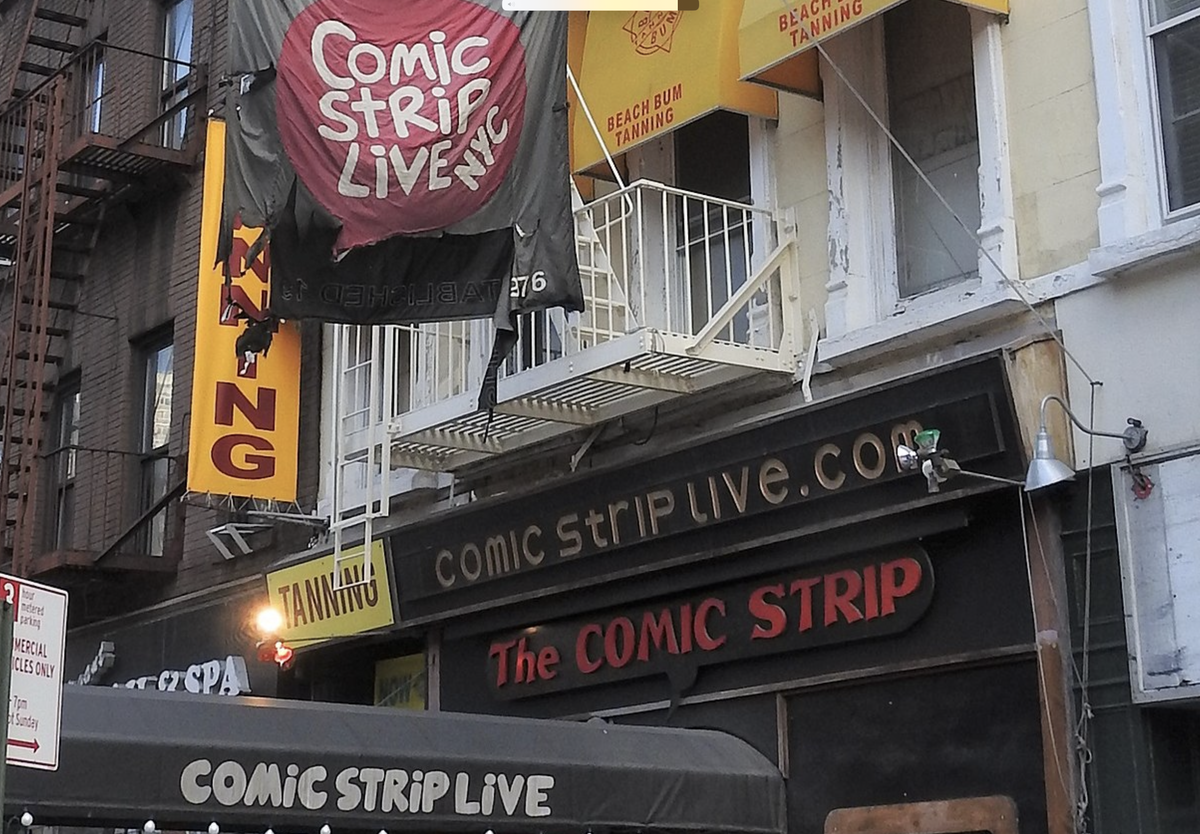 On Sunday the Manhattan comedy club Comic Strip Live hosted a fundraiser for Gays Against Groomers, the anti-trans organization described by the Southern Poverty Law Center as an extremist group. Founded in 1976 by Richard Tienken and Robert Wachs, Comic Strip Live once served as a proving ground for generational talents like Jerry Seinfeld, Eddie Murphy, and Adam Sandler. Following years of financial struggles and the deaths of Wachs (in 2013) and Tienken (in 2021), the Upper East Side venue is now owned by Tienken's wife, Jean. It may not have quite the luster it used to, but Comic Strip Live is still a regular stop for many comedians in the New York City scene, with recent lineups featuring the likes of Sandler, Leslie Jones, TJ Miller, Tony Rock, and plenty of less famous comics. Under Tienken's leadership, it has also offered a platform for her far-right beliefs.
In 2022, as local publication Upper East Site reported, Comic Strip Live published an Instagram post with the hashtags "freedomofchoice," "firstandlastdonoharm," "Fmandates," and "Nurenberg [sic]" under an image of an American flag hanging above the club. Upper East Site noted that the hashtags drew a false equivalency between vaccine mandates and the Nuremberg Code, a reference it described—correctly, I would say—as anti-Semitic. Comic Strip Live responded with a $3 million lawsuit against the publication and a City Council member who criticized the post. A judge dismissed the lawsuit earlier this year.
About a month after Comic Strip Live filed the lawsuit, Tienken appeared on the podcast "Conservatish" alongside right-wing influencer "MAGAY," a woman named Rachel who is currently the leader of Gays Against Groomers' New York chapter, according to her Instagram and the group's website. As Upper East Site described, Tienken used that appearance to recount the various ways her club flouted Covid-19 health guidelines:
"When this whole vaccine thing started, I knew I was never gonna [sic]," Jean Tienken admits in the episode titled 'The Comic Strip vs Mandates.'
"Like with the people on the phone, they were taught from the very beginning, if anybody calls asking about vaccine cards you say, 'We don't segregate at the Comic Strip, we don't discriminate' and that was that – that's their answer. And when the Health Department comes in, they're told that 'this is my first day here, I don't know where anything is,'" said Tienken, explaining how she instructed her own employees to mislead Health Department inspectors as hundreds of New Yorkers were still dying of the virus each month.
In that same podcast, Jean Tienken also admits that she was told by a friend that the Instagram post was, in fact, antisemitic.  
"I took it down immediately because you know what, I'm not Jewish. I can't… I and it was Sunday morning. I had no one to ask," Tienken explained, then added "I did ask Victoria. Victoria said no, she didn't find it to be antisemitic, but that some Jews did."
Elsewhere in the interview, Tienken complains about "men that are competing against girls and stealing their scholarships," apparently a reference to trans athletes, and asks: "Who makes money with transgender? Big Pharma. You have to be on that shit the rest of your fucking life. Schools aren't gonna go up against Big Pharma. They make money—they run them. This is all the Rockefellers, and all those nutjobs that started this stuff."
In an Instagram Live recording earlier today, "MAGAY" said she became close friends with Tienken after they met last year. "She knows about Gays Against Groomers and my involvement, and after I took the position of being the New York chapter leader, we talked and we decided that we [were] gonna do this event," she said. "I wanted to do a launch party event, she suggested—offered—that we do a fundraiser at her location for Gays Against Groomers. And we went along with it, and I'm proud of her for standing up… She's still getting hate and text messages from comics. So it's not easy to stand up for the truth."
Promotional materials for the event listed Gays Against Groomers founder Jaimee Michell among its speakers. Michell is a former pro-Trump operative who used to promote QAnon conspiracy theories, according to a Media Matters investigation earlier this year:
Michell likewise used her online presence to promote conspiracy theories related to QAnon and the false claim that Democratic politicians were involved in child trafficking, retweeting support for the conspiracy theory from popular QAnon influencers (with whom she continued to interact through 2019) and tweeting that anti-Trump conservative writer Bill Kristol "has some skeletons in his closet. I'm guessing pizza flavored," seemingly a reference to the QAnon-adjacent "Pizzagate" conspiracy theory. Michell also repeatedly posted a meme she created making similar accusations against liberal celebrities, using it to brand everyone from CNN anchor Jake Tapper to Late Show host Stephen Colbert as "a pedo."
While lobbing these accusations at her political enemies, Michell posted a pro-Trump quote and picture from far-right figure Milo Yiannopoulos, months after Yiannopoulos' 2016 comments supporting pedophilia came to light. Michell also continued to use her identity as a lesbian to falsely claim that Trump was a "pro-gay" politician, earning her an advisory board seat on the campaign's "Trump Pride" coalition.
Leading up to the 2020 election, Michell had frequent online communication with Ali Alexander, the founder of the "Stop the Steal" movement that heavily pushed conspiracy theories about the 2020 presidential election. Michell would go on to be intimately involved in Alexander's movement, being listed alongside right-wing activist Alex Bruesewitz as a contact for the Stop the Steal rally in Wisconsin under her online account, "TheGayWhoStrayd." Following President Joe Biden's victory, Michell asserted the election had been stolen, telling her followers "the war is just getting started" and later speaking at a Stop the Steal event in Washington, D.C., that November. In reaction to the January 6 insurrection, Michell posted in support of the rioters on Instagram and Telegram, including reposting more content from Yiannopoulos.
Another listed speaker was Brianna Richardson, Suffolk County Chapter Chair for Moms Against Liberty, the far-right group (with significant GOP ties, per Media Matters) that advocates against all things CRT and LGBTQ+ in public schools. According to Upper East Site's report on the event, where bursts of physical violence broke out between right-wing provocateurs and local protestors, far-right activists David Nieves and D'Anna Morgan were also in attendance.
It is worth noting that while Comic Strip Live is certainly past its heyday, the ideology it platformed this weekend is far from a fringe position in comedy. Joe Rogan, a contender for the most popular comedian of our day, regularly dabbles in anti-trans rhetoric. Last year, his guest Andrew Schulz—another rising comedy star, who blamed the pandemic on Chinese people in his 2020 Netflix special and has a four-year-old set celebrating a transphobic slur on his YouTube page right now—compared trans people to QAnon conspiracists. Tim Dillon, another frequent Rogan guest and a massively popular comedian in his own right, has frequently complained about youth transition and what he sees as public school teachers' role in it. (Dillon and Rogan are both prime examples of how ideas spread by fringe groups end up in the mouths of useful idiots closer to the mainstream.) Tom Segura and Christina Pazsitzky constantly bash trans people on their popular podcast, whose network has almost two million subscribers and routinely hosts theoretically respectable comedians. Over the last ten years, Dave Chappelle has reinvented himself as an anti-trans activist on the biggest comedy platform in the world, which reportedly paid him more than $100 million for the privilege.
To the extent that a comedy industry exists, in other words, it is fully invested in transphobic hate.
Which makes it all the more important to show up wherever and whenever that hate takes root, as a group of protestors did at Comic Strip Live on Sunday. Earlier today I spoke with organizer Stephanie Fox about the protest, which they described as mostly peaceful, despite a few physical scuffles, and which raised more than $10,000 for trans children. Our conversation is below, lightly edited for clarity. (I left a voicemail with Comic Strip Live; I have not heard back.)
---
Could you talk me through what happened on Sunday?
Basically the comedy club on the Upper East Side, the owners are kind of known to be a little right-wing. They were hosting anti-vax stuff during the pandemic and stuff like that. This time what happened was there is an organization called Gays Against Groomers, which I assume you're familiar with—
Yeah, I am.
They have been creating a pretty significant social media presence. And someone decided that they're going to start some kind of New York chapter. They're having a fundraiser along with Moms for Liberty. I assume you're also familiar with that group?
Yeah.
So basically what they're doing is they're getting members from all around the country to converge into Manhattan, which is arguably one of the queerest couple square miles in the country, to have basically a hate fundraiser focused on some fairly controversial, far-right conspiracy theories around gender. So they're coming in and they're hosting this event. What we were doing is we were outside the comedy club, talking to people and making sure people knew that there was a hate rally being hosted in their neighborhood at this venue. It's a fairly notable venue.
We were also doing this thing called "Adopt-a-Transphobe." The concept was, every time someone walked in, we had people that had pledged a certain level of donation per person who attends the rally. And we were taking that money and we were donating it to an organization that helps homeless queer youth.
So we were out there. Pretty peaceful protest. A couple people got rowdy, but for the most part people were outside speaking their mind, holding signs, doing chants, calling attention to bigotry in our area. We did things like write some chalk on the sidewalk, which is pretty basic free speech. I guess the owners didn't particularly care for it, because they had one of their workers come out and fucking dump tubs of bleach on the ground toward us, splashing it on our feet and shit. The cops wouldn't do anything about it.
We were just there to let people know that there's real bigotry happening in the neighborhood. These people are hosting and investing in local hate efforts, and I think people around the area deserve to know that, because it's not aligned with the values of who we are as a city.
Did you talk with anyone on the club side of things?
I did. I tried to make myself available to people that want to talk. "Do you want to talk and not just yell?" I asked a couple of the workers while they were working. One of them just kind of ignored me—actually slapped away my hand when I was taking pictures. Was not friendly. One of the workers actually, when we told her about what was going on, said she went in, told them that she's not working during that event, and left.
Oh, wow.
Some of our members gave her some money to her account to make up for the lost paycheck. But a diversity of experiences talking to staff. Talked to some of the people at the rally too. I talked to this one guy who was out there mostly yelling at us about free speech. It was a guy [Jonathan David Rinaldi] running for city council in Queens. And it was kind of funny because he's talking, "I'm just here for free speech!" I'm like, "There's literally someone next to you dumping bleach and erasing free speech, and what are you doing about it?" I don't know. He didn't seem to get that. What he was saying was quite ironic, considering the circumstances and sitting behind a police barrier.
I find that to often be the case with people who crow about free speech, especially in comedy. How much money did you raise?
We raised over $11,000.
I know the club sued Upper East Site the other year for accurately characterizing one of the owner's posts as anti-Semitic. Are you worried about litigation? Do you feel like they might retaliate in any way?
Anything they try to do is clearly something that is hypocritical, trying to shut down free speech. I'm really not afraid, because whatever they try to do is probably going to be a frivolous lawsuit. I imagine that lawsuit was thrown out, wasn't it?
Yeah, it was dismissed. It was pretty clearly bullshit.
If they want to waste their money, they're welcome to.
Is there anything else we haven't touched on?
It's notable that a lot of people that came to the rally were the same people that show up to these drag queen story hours. A lot of these people don't even live in our city, they come here just to terrorize people. And this is an area that's a haven to queer people that come from all across the country. I'm a transgender person, I live here partially because it's safe and I can be myself here. And that is beautiful. And that is part of what the city is. And it's sad that people are utilizing their positions of power, and financial power, to host something that is ugly and hateful and trying to undo the safety that so many of us have found here.
I think that is one of the bigger problems. I live in Greenpoint. We've had this problem in Greenpoint too, where organizations have utilized their spaces to host far-right people. We had Ewa Kurek, who's a Holocaust denier from Poland, come and and she spoke at the fucking Polish National Home, which is also known as the Warsaw. There are people that come to that venue that deserve to know about that. So we told a lot of people, we told a lot of musicians. Some musicians ended up canceling their concerts at that venue, and they were pressured to stop doing that. But we shouldn't have to organize and to engage people to not have powerful people inviting hate into our areas. This is a problem. It's consistent and it's something we're gonna keep on fighting.
Keep it going for your host!
Humorism is fully reader-supported.
Leave a tip